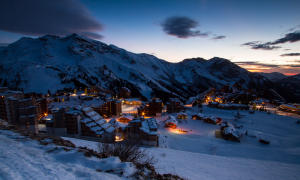 We'd deliberately selected a high European resort for our weeks skiing as we were aware that a lot of recent European winters have been fairly late starting, and we were so glad we did.  Avoriaz is at an altitude of approx 1800m, and when we arrived there was little snow below the resort.  Still, coming from the smaller New Zealand ski fields we're used to, having a mere 137 out of 248 pistes open in the Portes du Soleil ski area still left plenty of scope!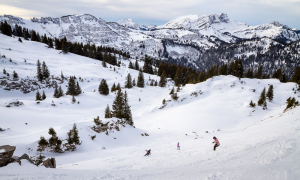 For a purpose-built ski resort, Avoriaz is fairly nice, with lots of timber apartment block cladding, and traffic-free with walking or horse-drawn sleighs the choice as to how to get about the village.  We had mixed weather, with 10-15cm of badly needed snow on the first night, a couple of days of reasonable sunshine, and then higher winds for most of the rest of the week.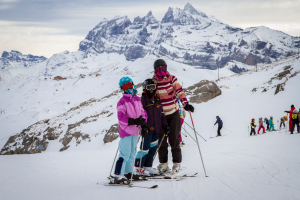 With the inclement weather (not necessarily cold, but windy and snowy/sleety at times), the luxury of vin chauds and chocolate chantilly at little mountain lodges was great, and the kids enjoyed the novelty of skiing "over to Switzerland".  Lots of good fun to be had playing in the powder even within a relatively few metres of the piste edges, with most of the other skiers "swimming between the flags"; we really did manage to find quite a bit of untracked snow which surprised us.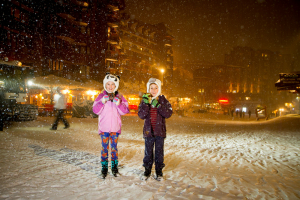 The views towards the Dent Blanche and the Dent du Midi were stunning when the weather was clear, and we even managed to enjoy the spectacle of 30+cm of snow falling overnight on our last night even though we knew we wouldn't get to enjoy skiing in it.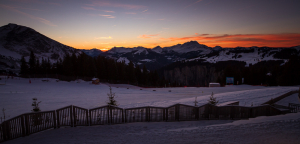 The apartment itself was very comfortable with the block being perched pretty much on the edge of the west-facing cliff in Avoriaz, giving us great views of some stunning sunsets.