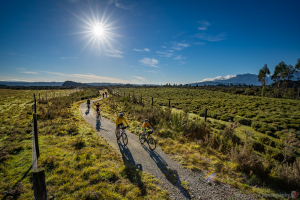 We headed off with the Bairds over Arthurs Pass (stopping for a wander up the Bealey Valley to stretch the legs) to base ourselves for 4 nights in Kumara on the West Coast in close proximity to the West Coast Wilderness Trail.
Our first day there proved to be stunning conditions for cycling, being cool, clear & completely calm. 60-75kms of mixed single-track and pylon tracks took us uphill from Kumara past the Kapitea & Kumara reservoirs and alongside some extensive hydro-scheme water races to Cowboy Paradise for an ice-cream before heading out via Kaniere (and some awesome historic water-race single-track towards the coast again at Hokitika).
The weather steadily turned worse for the rest of the trip, but not before exploring the beachfront at Hokitika and some of the historic mining area around Goldsborough just west of Kumara, and then some challenging geocaches in the drizzle around Kumara itself.
Other highlights included the historic Kumara bath site (Olympic-sized swimming pool complex built from mine tailings in the 1930s and the largest swimming pool in NZ at the time) and the glow-worm dell just behind the Theatre Royal Hotel.
Also a good opportunity to keep learning the ins and outs of my new Sony A7iii paired with a Canon EF16-35 F4 II.