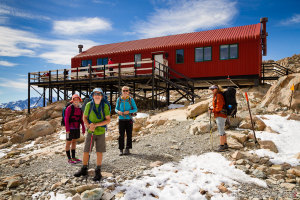 A bit of a rinse and repeat from a great trip four years ago down to Aoraki-Mt Cook National Park with the Maddigans.  Four years ago, only E & I stayed up at Mueller Hut, but this year, all eight of us were in residence, and once again we were so lucky with the weather.  Ex-cyclone Gita blew across the country a couple of nights before we were scheduled to go up to the hut dumping approx 40cm of fresh snow around the hut, and the night after we departed, forecasts of 120km/h+ winds meant DoC closed the hut to trampers again, leaving the night we had fortuitously booked the only night that week that the hut had inmates.
We enjoyed a great scramble on a beautifully sunny morning along the ridge towards Mt Olivier, and E managed to find herself a decent boulder for some bouldering with Mt Sefton providing a great backdrop.
A quality weekend away again!